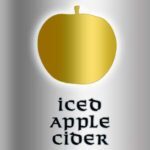 Iced Apple Cider
Cryo-extracted, 100% local apple cider, fermented very slowly, oaked and aged. This fantastic product has limited availability due to its aging requirements, and impressive taste. Caramel apples in glass. Beautifully packaged and great as a gift.
375 mL bottle for $35.00 + HST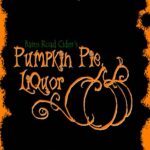 Pumpkin Pie Liquor
An interesting brew! Very sweet, very high in alcohol! This fortified, spiced pumpkin wine was made from our family's backyard pumpkin patch and the leftover pumpkins from neighbouring farms. It started out as a pumpkin wine, made from pressed pumpkin juice and evolved into what it has become. At 20% alcohol, spiced with locally purchased pumpkin pie spice, and oaked with Canadian oak, it is a shot of pumpkin pie in a glass. Try some at your next party, or try some in your coffee!
500 mL resealable bottle for $25.00 + HST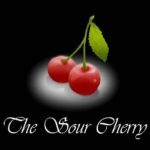 The Sour Cherry
Off-dry, Rose wine with 11% alcohol. Made with 100% sour cherry from local farms. Our first release, it is available at many local restaurants. Pairs well with soft cheeses like Brie or Goat.
750 mL bottle for $14.00 + HST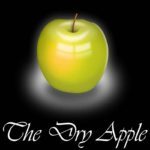 The Dry Apple
Dry, white table wine made from 100% Ontario apples. At 12% alcohol, it is meant to be a companion to The Sour Cherry, it pairs wonderfully with roast pork or turkey dinner.
750 mL bottle for $14.00 + HST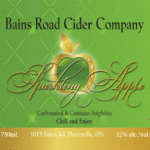 Sparkling Apple
Our Dry Apple wine sparkled to make it a lovely apple bubbly! Great way to celebrate Christmas Eve or makes a great gift. Very crisp and dry, hard to tell that its made from apples.
750 mL bottle for $15.00 + HST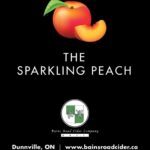 The Sparkling Peach
Our Sparkling Peach is made from Niagara peaches. At 7% alcohol, it's sparkling, off dry and bursting with peach flavour.
750 mL bottle for $12.50 + HST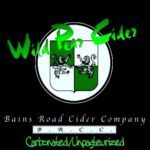 Wild Pear Cider
Sourced from local farms, it is light and refreshing. A semi-sweet and sparkling, traditional-style Perry with 5.5% alcohol. It would compliment a light green salad with almonds, pears, sprinkled with goat cheese and tastey vinaigrette. Our first cider released for sale.
750 mL bottle for $12.50 + HST

**Also available in 18.5 L kegs**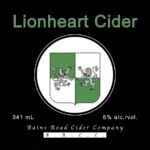 Lionheart Cider
Our signature product, Lionheart cider is made from 100% Ontario apples. It is a light, dry cider with 6% alcohol and a refreshing apple taste. A deceptively simple product with a medium sparkle. Enjoy it on your patio in the hot sun, or in January in front of the fire.
500 mL bottle for $5.00 + HST
1.5 L Growler for $12.50 + HST

**Also available in 18.5 L kegs**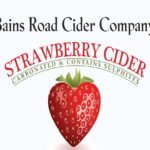 Strawberry Cider
Light and refreshing, made from excess strawberries provided by local farms, this is sure to please. Alcohol - 6%. Sparkling and semi-sweet, a taste of summer in any season.
750 mL bottle for $12.50 + HST
**Also available in 18.5 L kegs**
Soon to be available in 500 mL cans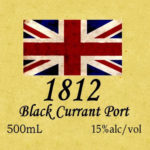 Black Currant
At the request of the township, we began working on a wine to commemorate the year 2012 as being 200 years after the war of 1812. We came up with a traditional style of wine from that era. As there was no wine industry in the new world to speak of, wines would have been shipped across the ocean in barrels. To survive the long journey, they were fortified and sweetened to make them a hostile environment to spoilage organisms. The Black Currant is 15% alcohol and very sweet, made from local black currants. Bottle necks are sealed with blood red bottle wax. Very popular - Limited quantities.
500 mL bottle for $18.12 + HST
SR Reserve
This wine was made as a partner to the Black Currant and is a particularly nice sipping wine. Made from leftover strawberries and rhubarb from local farms, it is quickly becoming a favorite of ours. High acidity from the rhubarb is balanced by the high sugar levels and strong flavour of the strawberry. Very sweet, and at 15% alcohol, it makes a refreshing sipping wine due to it's unique, smokey character.

500 mL bottle for $12.50 + HST